Season Pass Treasure Hunt Season 2 On Now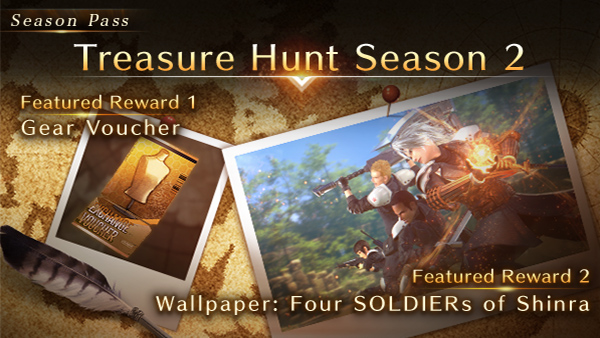 Thank you for playing FINAL FANTASY VII EVER CRISIS.
This is a message from the management team.
As of Oct. 8 7:00 PM PDT, the Season Pass Treasure Hunt Season 2 is in effect.
Earn Exploration points and increase your Exploration Level to obtain various rewards.
Period
Exploration Deadline
Oct. 8 7:00 PM–Nov. 4 0:59 AM PDT
Reward Collection Period
Oct. 8 7:00 PM PDT–Nov. 5 5:59 AM PST
*If the reward collection period has passed and there are unclaimed rewards that can be received through the season pass, all available rewards will be sent to the Gift Box.
What is a Season Pass?
With a Season Pass, you can earn various rewards by raising your Exploration Level.
The Exploration Level will increase by exploring and earning a certain amount of Exploration points.
Earn rewards for each Exploration Level you reach.
Exploration Level can also be increased by consuming Red/Blue Crystals.
There are three types of Exploration: Daily Exploration, Weekly Exploration, and Season Exploration, each of which is reset at regular intervals.
*Explore may be added during the period.
*Rewards can be obtained from the Season Pass screen after the Exploration Level has risen.
Treasure Hunt Season 2 Rewards
Rewards can be obtained through two types of Hunt Path, Normal Hunt and Premium Hunt.
Normal Hunt
This is the Hunt Path that is unlocked from the beginning.
Various items such as stamina potions and selectable memory exchange vouchers can be obtained according to the Exploration Level.
Premium Hunt
This is a Hunt Path that can be unlocked by purchasing the Premium Hunt.
When unlocked, you can obtain additional rewards according to the Exploration Level in addition to the rewards of the Normal Hunt.
Also, special rewards are prepared for each season of the Premium Hunt rewards.
Featured Rewards for Treasure Hunt Season 2
Wallpaper: Four SOLDIERs of Shinra
Gear Vouchers

Normal Hunt Total Rewards
Blue Crystal x1,500
Memory Voucher x20
Stamina Tonic x12
Gil x11,000
Grindstone Chunk x5
Materia Booster (L) x8
Bookmark x3
Chocobooster x3
Title plate x1
Premium Hunt Total Rewards
Wallpaper x1
Gear Voucher x1
Blue Crystal x4,500
Memory Voucher x60
Gil x33,000
Grindstone Chunk x15
Materia Booster (L) x24
Synthesis Bookmarkx9
Chocobooster x9
Power Pieces x100
Magic Pieces x100
Healing Pieces x100
*The total rewards listed are the total amount you can earn when you raise the Exploration Level to the maximum.
Please Note:
Please check the in-game help for details regarding the Season Pass.
The period and content are subject to change without notice.
Thank you for your continued support of FINAL FANTASY VII EVER CRISIS.