Event 'Beach Festival Fun!' On Now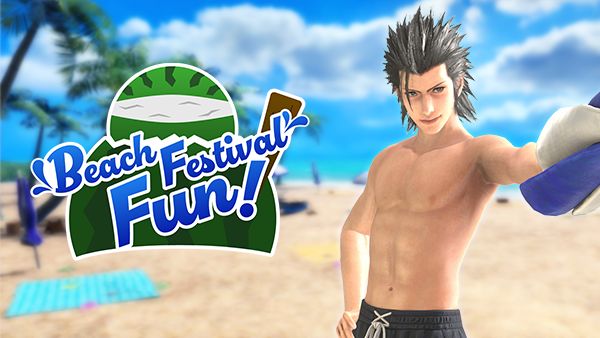 Thank you for playing FINAL FANTASY VII EVER CRISIS.
This is a message from the management team.
As of Sep. 10 7:00 PM, the event 'Beach Festival Fun!' has started.
Event Period
Sep. 10 7:00 PM–Sep. 28 3:59 PM PDT
How to Play the Event

Progress through the event-exclusive Seasonal Story and clear the event quests.
Every time you complete a quest, you can acquire exchangeable items such as Huge Mega Watermelon and Lifesaver, which can be exchanged for luxurious rewards at the Exchange.

The exchangeable items collected in the quest can be exchanged at the Event Exchange for various items such as limited-time Gear, weapons, character-specific weapon parts, and memories.


The Beach Parasol (Zack) weapon can be obtained up to 11 times through the Exchange and by completing event battles. Acquire multiple to Overboost it.
Boss Information

Tips for Conquest
Physical attacks are effective, so we recommend setting abilities that deal physical damage.
During the Stream Phase 'Watermelon Bash!!!', one ally will become incapacitated, so it is recommended to distribute the recommended Sigils between each character.
Draw Information

The Tifa & Red XIII New Weapon Featured Draw is now on from Sep. 10 7:00 PM PDT.
Please check the corresponding notices for information on each Draw.
Event Mission Information

By completing the Event Missions, you can acquire items such as the Beach Festival Fun Wallpaper.
Please check the special tab within the mission for details.
*This event will be unlocked by completing the The Destruction of Mako Reactor 5 in CHAPTER 1 MAIN SECTION 3 EP 1 of the FINAL FANTASY VII story.
Please Note:
The event period and content are subject to change without notice.
Images displayed in the Notices may differ slightly from those in-game.
Items at the Event Exchange are exchangeable for a limited time only.
This event may reappear in the future.
Thank you for your continued support of FINAL FANTASY VII EVER CRISIS.